A lot of people look at the friendship bracelets that I make and think that I'm extremely clever and talented. I mean, they're not wrong (just kidding!), making friendship bracelets isn't actually difficult, once you learn the basic technique! In this blog post, I will only be covering what equipment you will need to make the bracelets. Please keep checking back for when the following parts come!
Here's just a selection of bracelets I have made :)
Friendship bracelets never seem to go out of fashion and been around for centuries. BraceletBook.com has a very good history of friendship bracelets,
which I will link here for anyone who's interested.
This type of bracelet are heavily associated with Native American culture, although BB explains that knot-tying crafts have their origins in all corners of the globe!
Friendship bracelets tend to be made with embroidery thread and they use a basic macramé knotting technique to create the intricate patterns and you can use as many colours and threads as you like!
But let's not get ahead of ourselves.
I suppose the most important thing that you'll need is embroidery thread. This can be purchased relatively inexpensively, if you shop in the right places. Many craft shops will have high-quality thread, which is great, but can be pricey. Once you learn how to make the bracelets and know it's something you want to do a lot of, treat yourself to some high quality thread! For beginners, I would recommend buying cheaper thread. You're going to go wrong, you're going to throw your bracelet across the room and chop the top off. It's going to happen!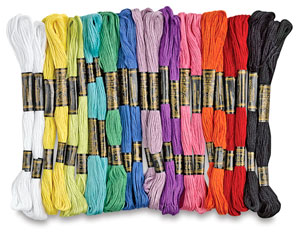 It is necessary to use the same thickness of thread within one bracelet to achieve the even surface.
I live in the UK, so I can speak with confidence about where to buy cheaper thread for from here! PoundLand sells a pack of embroidery thread for £1. I think that there are 12 skeins of thread in each packet, so that's a definite bargain! The Works also sometimes has embroidery thread, although it has a shinier finish than the PoundLand thread. Just keep an eye out for it! I guarantee that you will very quickly build a mighty collection!
I recommend getting a little box like this to keep your threads organised:
You will want your threads to be taught as you make your bracelet to ensure tight, even knots. There are a couple of ways to do this. I find it easiest to use a safety pin through the knot, pinned onto a cushion. Some people prefer to use a clipboard or just Sellotape on the table to keep the bracelet still. Have a play around and see what works best for you.
This is how I make my friendship bracelets :)
Scissors are naturally going to be necessary to cut the threads with!
Those are the basic "ingredients" you will need to make a friendship bracelet, but believe me, you can do all sorts with them! You can attach beads onto the bracelet as you go for a different finish, or you can add your creation onto a split ring to make a keyring!
Stay tuned for the next parts of Friendship Bracelets for Beginners :D Feel free to ask any questions and I will be more than happy to answer them.